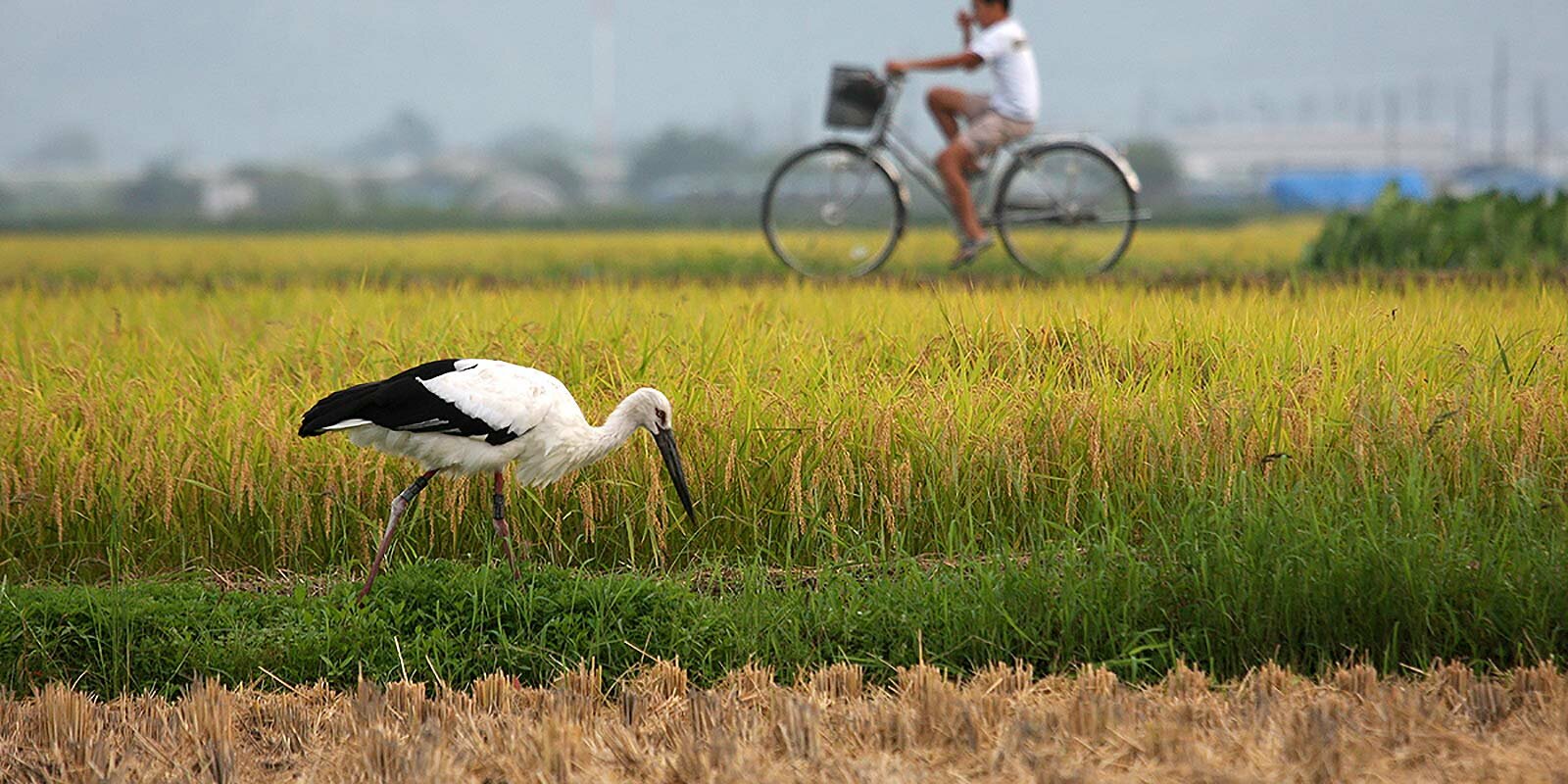 Farming
Coexisting with the Konotori and Konotori-friendly agriculture
Creating stork-friendly environments drives production of delicious rice
Natural beauty x gastronomy
What is stork-friendly agriculture?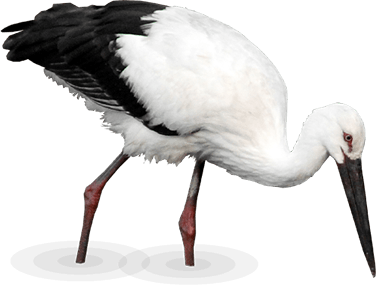 Stork Natural Rice production is dedicated to shoring up natural habitats where frogs, loach, and other wild animals that serve as prey for the stork can be found, as well as agricultural cultivation and harvest methods that help support the reintroduction of the stork to the wild. Safe and healthy rice paddies allow for producing delicious rice at the same time that they support a diversity of wildlife. The passionate efforts of rice farmers create a gourmet product that is both people- and Earth-friendly.
3 Reasons You Would Love "Stork Natural Rice"
1. Rice Harvested in Safe soil
Almost a half a century ago, the use of chemical fertilizers and pesticides was common for farming in Japan. The farmers in Toyooka, however, became concerned about the damage to the eco-system and loss of the Stork that once flew elegantly over the rice fields, spurring them to abandon chemicals and return to an eco-friendly environment. It took 40 years to successfully rehabilitate the now safe soil and the Stork habitat. Stork Natural Rice is harvested in these gloriously thriving fields.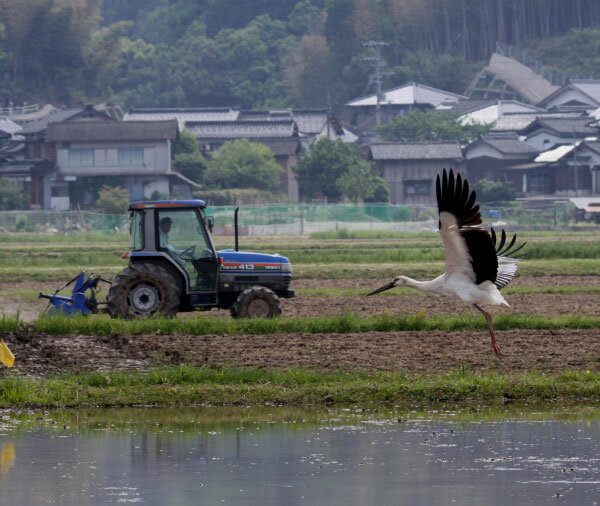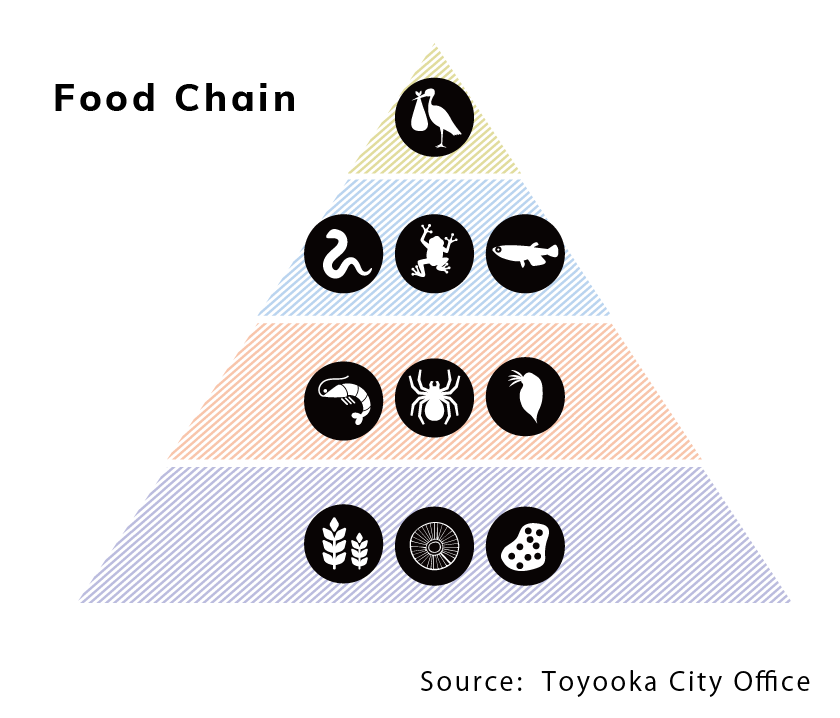 2. Agriculture that Supports Biodiversity
Toyooka's sustainable farming system employs methods that naturally prevent weeds through the use of a variety of organisms. Live organisms function as natural fertilizers and also feed the stork, while other animals raised in the ecosystem, like frogs, eat harmful pests.
3. Rich, Supple and Long-Lasting Quality
The naturally maintained agriculture in Toyooka helps cultivate a high-quality, supple and sticky rice. The underlying sweetness and delicate earthiness of the rice helps it stand apart from other brands. Whether it is served straight out of the rice cooker or 24 hours later, Stork Natural Rice never loses its flavor.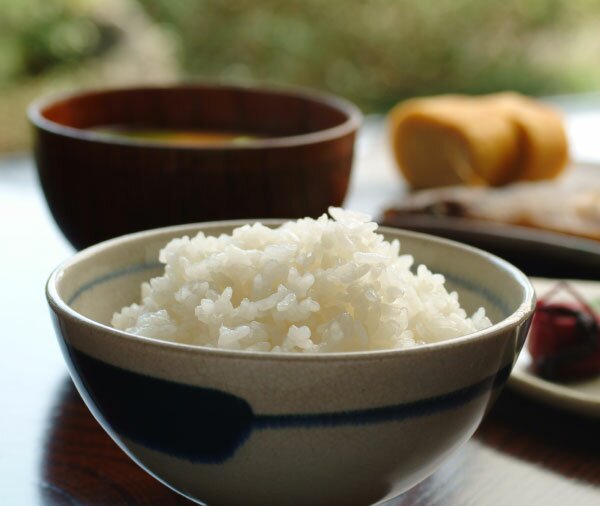 Bringing rice to the world
At the Expo 2015 in Milan, 148 countries and organizations hosted pavilions. The key theme was food and agriculture.
At the Japanese pavilion, the stork was depicted as a symbolic figure on video footage. This initiative was achieved by Toyooka pitching the project to the national government. The Japanese pavilion had a food court, with seven restaurants where guests could enjoy Japanese cuisine. For the length of the event, the rice used there was Stork Natural Rice. 24.5 tons of the product were purchased. Today, we have begun export initiatives. We are currently exporting to 6 countries. It is loved around the world for its reputation as a rice that protects the ecosystem.
Awards
Grand Prize, Preservation Products Category, 1st Biodiversity Japan Awards (Ministry of the Environment and AEON Environmental Foundation)
12th Green Purchasing Minister of the Environment Grand Prize (Green Purchasing Network)
42nd Japan Agricultural Awards, Special Category, 9th Food Link Award (JA Group)
Grand Prize, Rice Taste Analysis Contest International Competition (Association of Rice and Food Taste Appraisers)
Cool Japan Awards 2017 (Cool Japan Council)
The Tajima Agricultural Cooperative obtained GLOBAL G.A.P certification for its efforts in producing stork-friendly rice (rice made without agrochemicals).
Director-General of Kinki Regional Agricultural Administration Office Prize, GAP Category, Competition to Promote Sustainable Agriculture for the Future (Ministry of Agriculture, Forestry and Fisheries)
Restaurants
USA
New York
San Francischo
Australia
Sydney
Singapore
Retail Locations
USA
Hollywood
Australia
Sydney
Singapore
Hong Kong
Taiwan
Taipei
JAJA
UAE
Dubai